WELCOME TO CARROLL REAL ESTATE!
Here you will find a wide variety of useful information and resources designed to help you sell or buy a home more effectively in Santa Clara County also known as Silicon Valley. From information on the local community, Home Values, Home Sales, helpful advice about finding a home loan specialist or preparing your home to sell, it's all available here on my web site.
You can also search for your ideal home by viewing current listings with detailed descriptions and photos. Or you can get help determining the value of your home by requesting a report that includes the prices of similar homes that recently sold or are currently for sale in your neighborhood.
Another great feature you can use, before you buy and move, is to compare one zip code's climate, cost of living, education, income, crime, etc... with another! Click here for: community reports!
"So whether you're selling or buying, feel free to contact me and I will be happy to help you with all your real estate needs!"
"I have built this company by building relationships!"
"Selling Real Estate, the way I practice it, is about relationship building!"

"That's what sets me apart from the rest. It's about me listening to your needs and working for you. My goal is to help you through the process together to find you the best possible deal in the shortest amount of time with your comfort and convenience at the forefront."

"My responsibility, as I see it, is to help people educate themselves about the (usually) unfamiliar and confusing process so that they can make the best decision for their situation."
"It is further my responsibility to walk them through the process from start to finish. I want you to enjoy and feel at peace in your new home, where you will be sharing memories with your family and friends for many years!"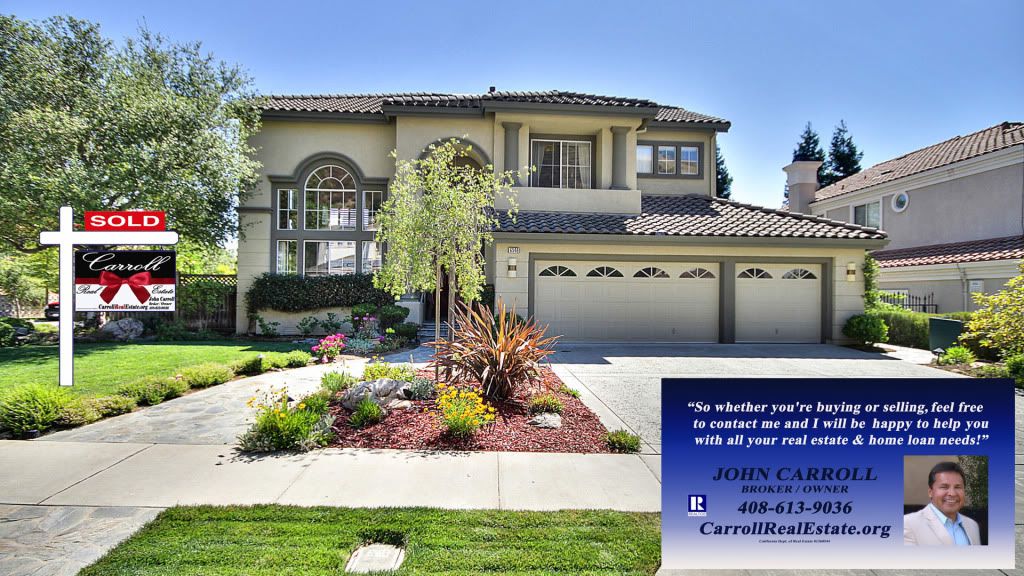 People always ask me... "John, How is the Market?"
So in response to this question, I created these Market Graphs to help give you a good visual description of the Real Estate Market here in Santa Clara County. As you can see over a twelve month period, these statistics represent Single Family Homes, Town homes and Condominiums.
In the first graph, you can see the market trends for inventory or the number of homes still active or on the market (Green Column). The Red Bar represents the of Number of Home Sales spanning the last 12 months in Santa Clara County.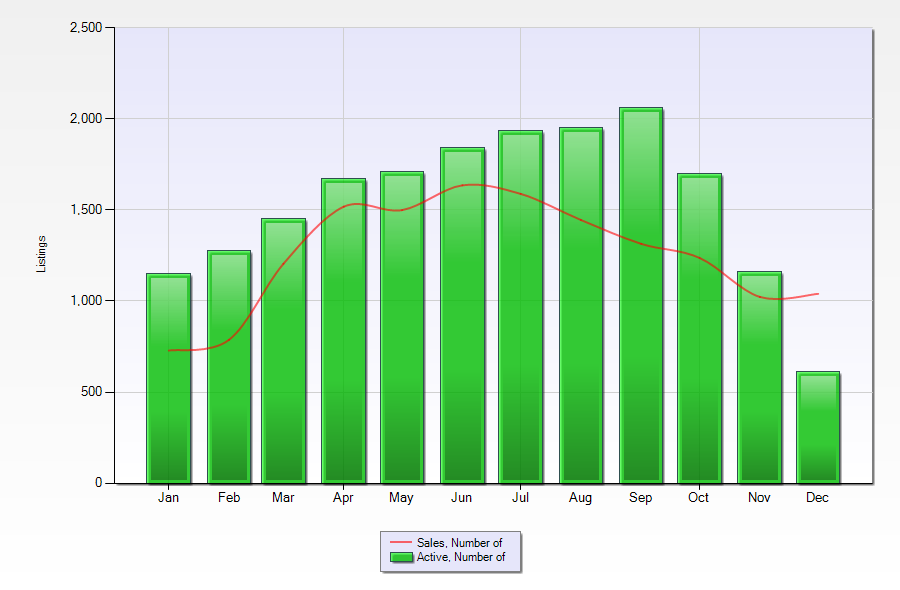 In the Graph below the Green Column represents the average sales price of home sales for the past 12 months.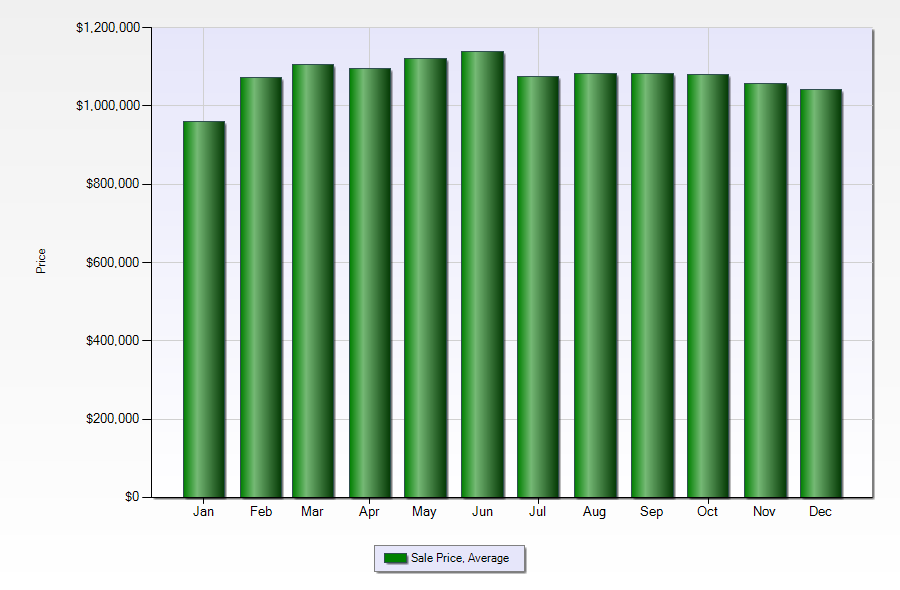 Another common question I get is, "John... How are interest rates?" Below is one lender's rates as of today. Obviously there are several key factors in determining what your interest rate and house payment will be, such as credit score, income and debt ratio. When you contact me, I will help you to determine what makes the most sense for your situation.
If you'd like to take a quick look and see approximately how much home you will qualify for, just click here:

MORTGAGE AFFORDABILITY CALCULATOR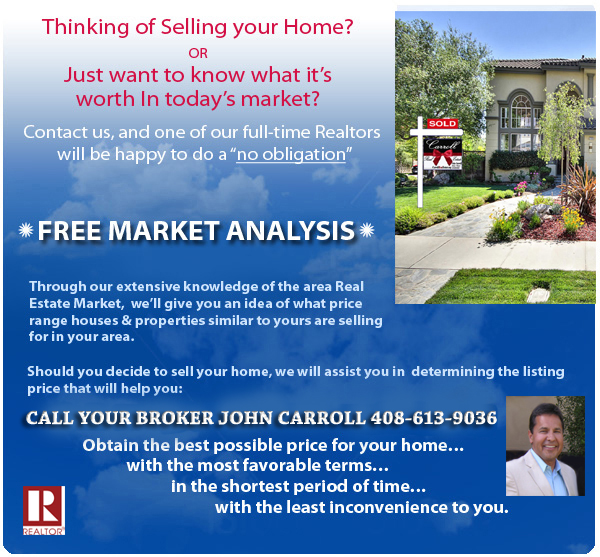 FREE QUICK CMA CLICK HERE !
FREE FULL (MORE DETAILED) CMA CLICK HERE!
YOU CAN ALSO CONTACT ME WITH YOUR PROPERTY INFORMATION. I WILL DO THE RESEARCH AND PROVIDE YOU WITH A FREE CMA REPORT!
ARE YOU THINKING OF SELLING OR BUYING?
"We are here to help you every step of the way!"

Call John: 408-613-9036
Email: john@carrollrealestate.org
John Carroll
"I also want to thank you for your kind referrals! I'm never too busy to help someone you know with their real estate needs. I will go the extra mile to make sure they are completely satisfied with their home sale or purchase."

Follow us on Facebook: "CARROLL REAL ESTATE"
Buyers
"Whether you're looking for your first home, your dream home or an investment property, I'm committed to providing you with the highest quality buyer service. When making the type of investment that buying a home requires, you deserve to have all the latest market information and the very best advice, both of which I can provide you with." Read more.
Sellers
"The decision to sell a home is often dependent on many factors. Whatever your reasons are for selling, my proven effective marketing strategies will ensure that you get the highest possible price for your home. I guarantee to provide you with professional, ethical and confidential service and keep you fully informed every step of the way."

We work with buyers and sellers in and around San Jose and the San Francisco Bay Area including Almaden Valley Real Estate,, Eagle Ridge, Gilroy, Blossom Valley Homes for Sale, Saratoga, Silver Creek Valley Country Club, Los Gatos, Monte Sereno, Campbell, Cambrian Park, Evergreen, Willow Glen, Santa Teresa, Sunnyvale, Cupertino, Santa Clara, Morgan Hill, The Villages San Jose Golf & Country Club (Adult Community) Los Altos, Palo Alto, Mountain View and all of Santa Clara County and Silicon Valley Facebook

www.SanJoseSoldHome.com. and the following zip codes but not limited to: 94022, 94024, 94041, 94043, 94085, 94086, 94087, 94301, 94304, 94305, 94306, 95002, 95008, 95013, 95014, 95030, 95032, 95050, 95051, 95054, 95070, 95110, 95111, 95112, 95117, 95118, 95119, 95120, 95123, 95124, 95125, 95126, 95127, 95128, 95129, 95130, 95131, 95132, 95133, 95134, 95135, 95136, 95138 Read more.